Pharmaceutical companies have proven to be crucial allies in promoting online learning programs and continuous medical education (CME) for healthcare professionals. Their sponsorship strategy includes significant financial support and collaboration on a range of educational initiatives, among which online courses, webinars, and conferences stand out. By sponsoring these opportunities, they not only provide the necessary funding but also contribute their expertise and grant access to the most recent medical research and advancements.
This strategy enables healthcare professionals to keep pace with the rapid evolution of medical knowledge, treatment protocols, and innovative therapies. In the realm of e-learning sponsorship, we have identified three key models that have led to more than decent money and significant success, as demonstrated through three projects carried out in CredoWeb. These models show how potential sponsors can team up with online course creators to enhance learning experiences, ultimately benefitting the entire healthcare field.
Model 1: Sponsorship of a CredoWeb driven eLearning
Project: Bioscope Breast Cancer Academy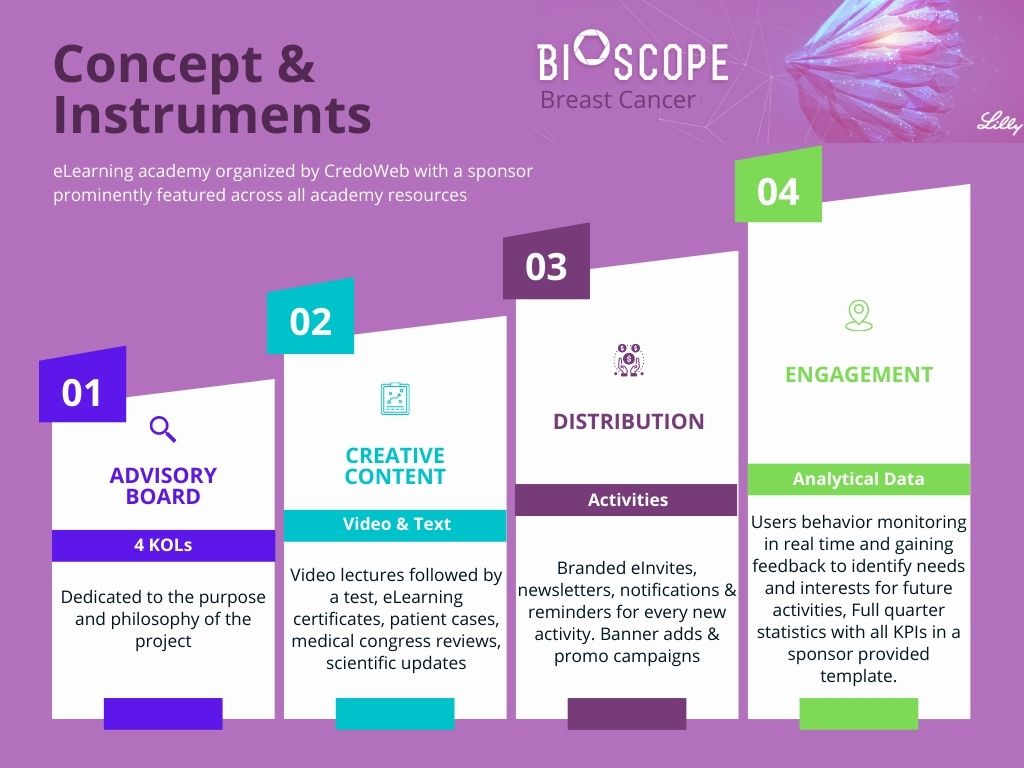 Description: CredoWeb, as the driver and owner of the project, takes full responsibility for its successful execution. With the support of the pharmaceutical company Eli Lilly as a sponsor, CredoWeb ensures that all aspects of the project are handled efficiently. This includes hosting, administration, and the planning of content creation. CredoWeb maintains regular communication with all content authors, overseeing their contributions and ensuring the project's objectives are met. Additionally, they handle the visual concept of the project, making necessary adjustments and resizing as needed. With CredoWeb's strong project governance, the collaboration between the company and Eli Lilly is guided smoothly and effectively, ensuring the project's overall success.
Main pillars of the model:
An advisory board composed of Key Opinion Leaders (KOLs) responsible for content creation and review
Diverse and engaging content formats including videos, texts, presentations, clinical cases, quizzes, medical congress reviews, and scientific updates
Branded invitations, reminders, and newsletters to enhance the academy's communication
Prominent featuring of the sponsor's brand across all academy resources, ensuring strong brand visibility and recognition
Activities:
Building and hosting a secure custom-branded space for an e-learning course on CredoWeb.
Setting up educational materials including text (new guidelines, congress reviews, scientific updates), PowerPoint presentations, video presentations, clinical cases, and quick quizzes.
Establishing a scientific advisory board consisting of 4 Key Opinion Leaders (KOLs) in oncology to set goals, determine trends, and plan the content schedule.
Conducting two regular meetings per year with the scientific advisory board.
Sending e-invitations to target groups of doctors for course participation.
Creating tailor-made newsletters to attract target groups, encouraging them to join the course and share their opinions or comments.
Sending email notifications and reminders to participants to keep them engaged and informed.
Implementing a progress bar to help doctors navigate through their learning journey and track their progress.
Administering a final test or questionnaire to assess participants' knowledge and understanding.
Applying branding elements based on specific requirements.
Collecting statistics and analytics data to gain insights into participant engagement, progress, and overall course performance.
Sponsorship opportunities:
Exclusive Eli Lilly branding of the Bioscope Breast Cancer Academy, tailored to meet specific requirements.
Banner promotion within CredoWeb to effectively advertise and promote the academy and sponsor to oncologists.
Branded online invitations sent through email and push notifications to attract target audiences and encourage enrolment in the course.
Branding of tailor-made newsletters, ensuring consistent visual identity and reinforcing the Bioscope Breast Cancer Academy brand and sponsor.
Membership in the Bioscope Breast Cancer Scientific Advisory Board, providing an opportunity to contribute to the course's goals, trends, and content schedule.
Exclusive branding of video, scientific, educational, and other materials distributed to healthcare professionals (HCPs), reinforcing the Bioscope Breast Cancer Academy's identity and establishing a cohesive sponsor brand presence.
Exclusive branding of certificates awarded to participants upon completion of the course, adding prestige and recognition to their achievements.
Model 2: Sponsorship of a KOL driven eLearning
Project: Focus EndoRep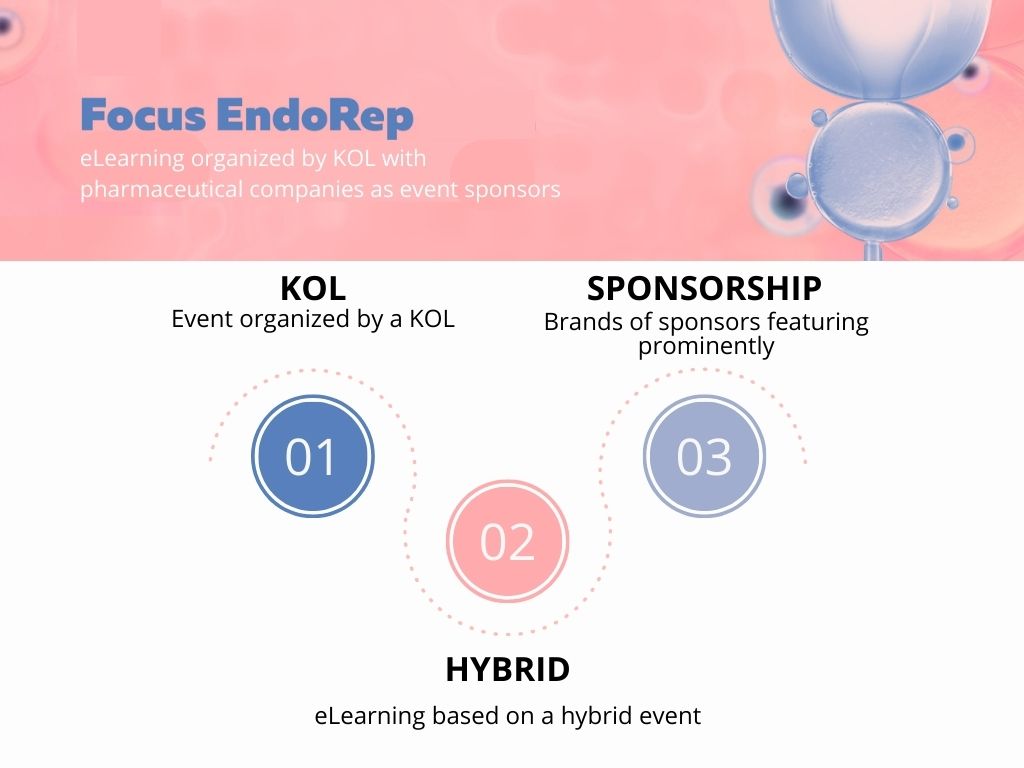 Description: The driving force behind the project is Prof. Kazem Nouri, a renowned Key Opinion Leader (KOL) who is eligible to conduct Continuing Medical Education (CME) sessions and award credit points to participants. This hybrid CME event, hosted on credoweb.at, benefits from Prof. Nouri's expertise and leadership. The project is sponsored by prominent pharmaceutical companies, including Ferring, Organon, Astro Pharma, and Novo Nordisk, who provide the necessary support and resources. This collaboration between the KOL and the pharma companies ensures the delivery of high-quality CME content and an enriching learning experience for healthcare professionals. Through this initiative, participants have the opportunity to stay up-to-date with the latest advancements in their field, earn credit points, and enhance their professional knowledge and skills.
Main pillars of the model:
eLearning organized by KOL
Content in the eLearning is based on lectures from a hybrid event
Brands of sponsors feature prominently in the eLearning space
Activities:
The one-day CME event was organized by Prof. Nouri and his team, inviting other Key Opinion Leaders (KOLs) from his international network to participate either in person in Vienna or online.
Approximately three months prior to the event, CredoWeb was contacted to organize the live broadcasting of the event for online participants.
CredoWeb contacted speakers to do dry-run tests for their online participation.
CredoWeb created a special secured virtual room within the platform for broadcasting the event.
Online participants received an invitation link that directly led them to the virtual room on credoweb.at, where the event was streamed.
Online participants had the opportunity to ask live questions to the speakers during the event, as well as in the days following.
In cases where questions were asked after the event, the event organizers received notifications and could answer.
The eLearning was available immediately on demand giving physicians the opportunity to join at a time of their convenience, receive CME certification and see all questions already posted and their answers from the speakers.
Sponsorship opportunities:
Sponsors were featured prominently in the event room, with their logos displayed directly within the virtual space.
Sponsors and their designated pharmaceutical representatives had the ability to join the virtual room and observe which doctors were participating online, as well as the questions they posed.
This allowed the pharmaceutical referents to gather valuable firsthand data about the engagement levels and interests of the participating doctors.
Model 3: Sponsorship of an eLearning driven by a medical association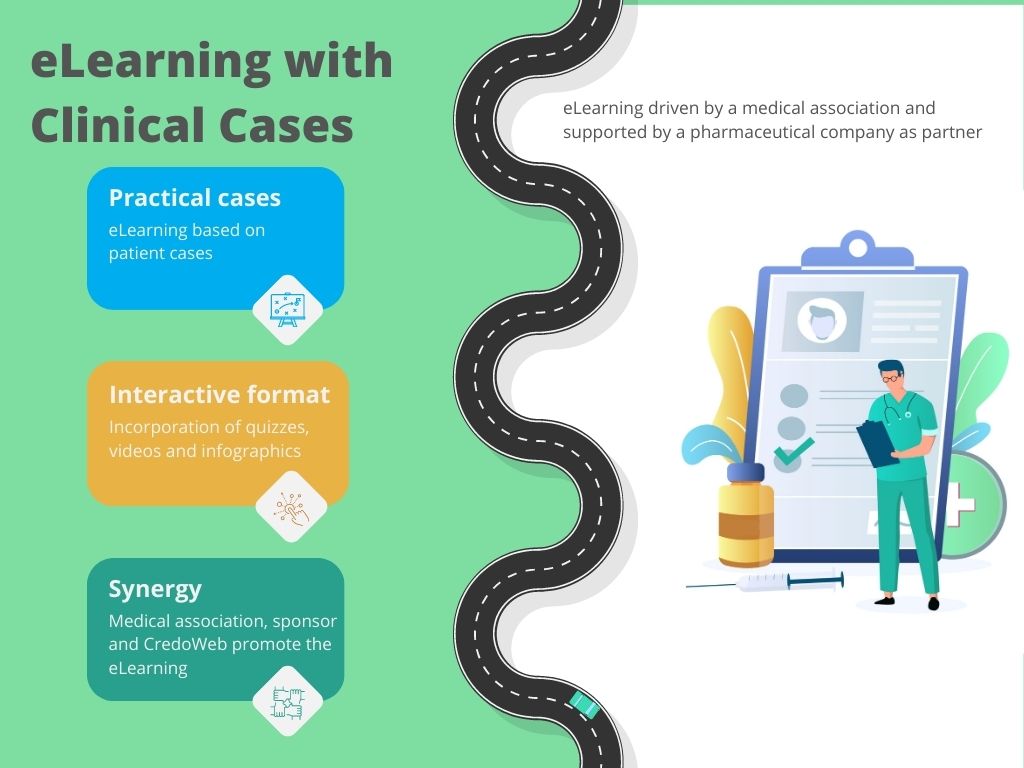 Description: The e-learning initiative is driven by a Medical Association, which takes the lead in providing a practical and informative educational experience for physicians. In this particular case, the Medical Association for Urology has partnered with a pharmaceutical company to sponsor and support the development of an e-learning course focused on clinical cases. The Medical Association plays a crucial role in curating and posting the e-learning materials, ensuring that physicians have access to valuable content and resources. Through this collaboration, physicians gain the opportunity to enhance their knowledge and skills in urology, while the pharmaceutical company demonstrates its commitment to supporting continuous medical education within the field.
Main pillars of the model:
Practical clinical cases
Interactive eLearning format
Synergy in popularizing the eLearning – Medical Association, CredoWeb, Sponsor
Activities:
Selecting and choosing relevant clinical cases to form the basis of the e-learning course.
Curating and organizing the clinical cases in a structured manner to facilitate knowledge-building for physicians.
CredoWeb creating an interactive e-learning platform where physicians can access information, engage in quiz-like questions, and track their progress in the learning process.
Each patient case concludes with a summary of key information and a test to assess physicians' understanding and retention of the material.
Issuing certificates to physicians upon completion of each case, recognizing their successful completion of the e-learning module.
CredoWeb sending out online invitations to physicians, inviting them to join and participate in the e-learning course.
The medical association actively promoting and presenting the e-learning course to its members, encouraging their engagement and participation.
The pharmaceutical sponsor leveraging its medical representatives to popularize the e-learning course among physicians, creating awareness and supporting physicians' CME.
Sponsorship opportunities:
The sponsorship strategy that pharmaceutical companies use for these eLearning initiatives is not just focused on the financial aspect. They actively participate in the selection process of clinical cases for the eLearning course. This involvement is crucial as it aligns with their objectives and expertise, becoming a significant part of the sponsorship package.
Moreover, all resources within the online academy, including materials and content, are branded with the sponsor's logo. This branding strategy firmly establishes their visible presence and association with the educational content, presenting clear sponsorship options to prospective partners.
The eLearning space prominently features the logos of both the sponsor and the medical associations, reinforcing their partnership and shared commitment to continuous medical education. This post-agreement phase is crucial for the success of the program. The sponsor's medical representatives play a valuable role in providing useful eLearning resources to physicians, further strengthening their brand presence and establishing themselves as thought leaders in physicians' professional development.
It's a unique approach that combines sponsorship with active involvement, creating a win-win situation. For instance, a sponsorship option could involve the sponsor's medical representatives providing expert advice or contributing to course content. It could also be in the form of a discount code for the sponsor's products or services, providing additional value to the online academy's audience.
Sponsors gain more than just visibility; they also have access to an eLearning Business Intelligence (BI) tool. This tool, equipped with statistical dashboards, provides insights into physicians' engagement levels, interests, and preferences. It puts them in the right place to make informed decisions and refine their engagement strategies accordingly, aligning with their business goals.
This strategy is not just about revenue generation; it's about bringing positive change in the healthcare landscape. Sponsors are not just providing funds; they are also contributing to the development of the eLearning courses. They are helping build a program that benefits the entire community, from medical professionals to the patients they serve.
The sponsorship strategy used in eLearning is multi-faceted and goes beyond mere financial support. It includes active participation and collaboration, adding significant value to the learning experience. This approach benefits all parties involved and contributes positively to the continuous improvement of healthcare standards. As a result, eLearning sponsorship can be an effective avenue for pharmaceutical companies looking to increase their visibility and impact in the healthcare community.
Final thoughts
The sponsorship strategy of pharmaceutical companies, particularly in supporting Continuous Medical Education (CME), is a powerful testament to their dedication to improving patient care. This strategy, defined by the backing of online academies and the provision of course materials, has resulted in significant advancements in the knowledge, skills, and clinical practices of healthcare professionals.
Identifying potential sponsors in the pharmaceutical sector has opened the door for fruitful collaborations between academia, industry experts, and healthcare providers. This has manifested in the sponsorship deals secured for online learning programs, such as webinars, promoting the exchange of ideas and fostering an environment of rich scientific discourse.
The sponsorship packages these companies offer include access to the latest medical research, thought leadership, and a commitment to the ongoing enhancement of healthcare standards. Each sponsorship proposal is curated with the goal of not only achieving business objectives but also making a positive change in patient care through high-quality content.
These sponsorships also result in advantages for the pharmaceutical companies themselves. Apart from bringing about positive change in the healthcare industry, they gain valuable insights into the engagement levels, interests, and preferences of the learners. This information can be leveraged to refine their engagement strategies and make informed business decisions.
The involvement of these decision-makers in CME underscores their commitment to patient safety and the implementation of evidence-based practice. By choosing to sponsor these programs, pharmaceutical companies are investing in the continuing improvement of healthcare standards, demonstrating their dedication to bettering the audience's lives. This is a win-win situation where both the sponsors and the healthcare professionals derive significant benefits from the deal.
Furthermore, these sponsorships have been proven to increase brand visibility and recognition, making them a potent marketing toolfor the sponsoring organizations. Whether it's through banner ads on an online academy's platform or exclusive branding of course materials, these strategies not only reinforce the commitment of the pharmaceutical industry to continuous education but also highlight their active role in bringing about a positive change in the healthcare landscape.
In conclusion, the sponsorship strategy employed by pharmaceutical companies in supporting CME, which goes beyond mere financial support to active participation and collaboration, brings numerous benefits to both parties involved. It showcases the positive and essential role pharmaceutical companies play in advancing medical knowledge and improving patient care.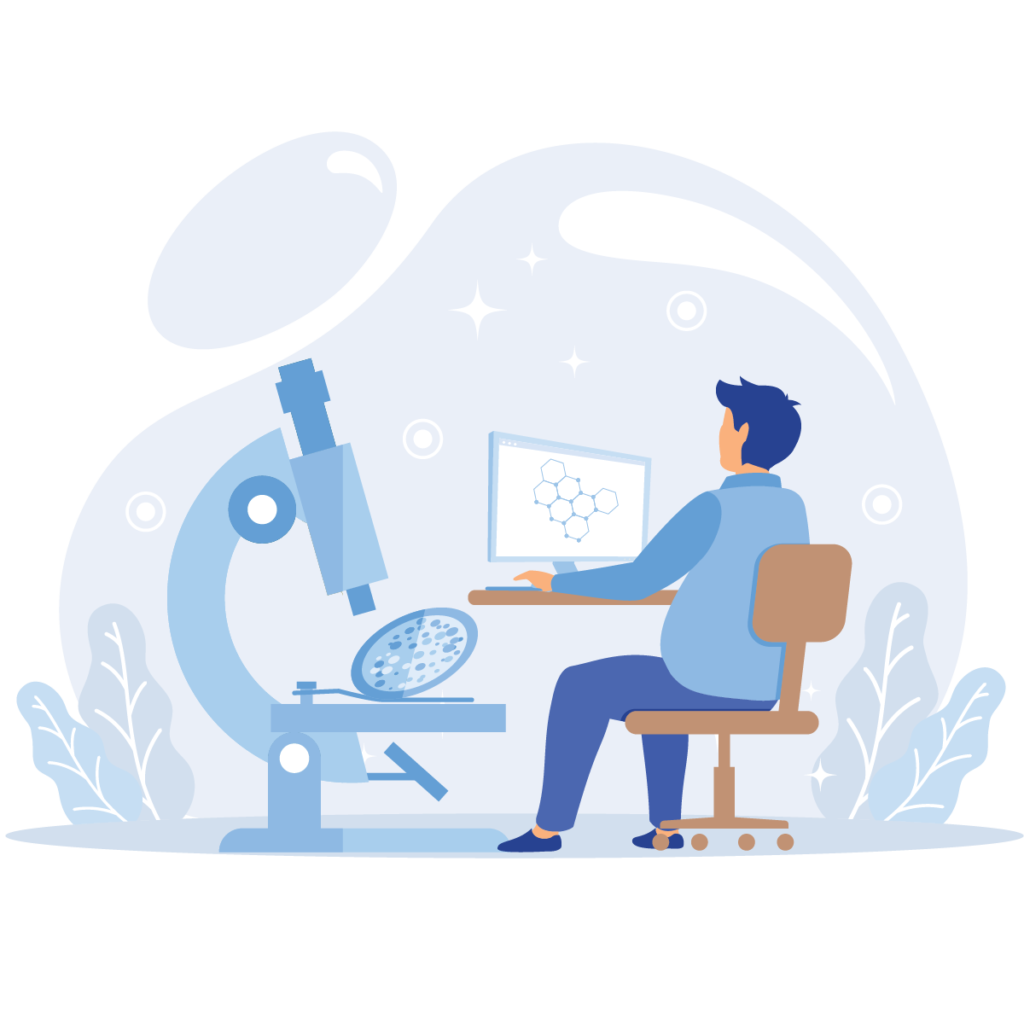 CERTIFIED eLEARNINGS
Take learning to the next level with our intuitive online platform and experienced team that will help you organizecontinuous medical education that truly helps physicians.
Full eLearning management – concept, video shooting, invitations and reporting;
Support in accreditation of e-learnings and issuing participation certificates;
Analysis of HCPs behavior and digital preferences.